University of South Asia
China Center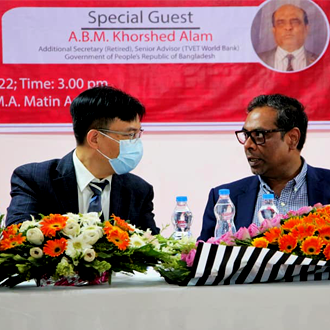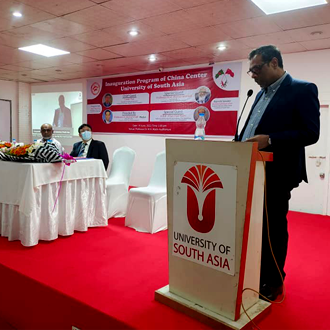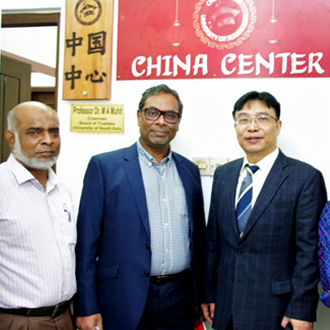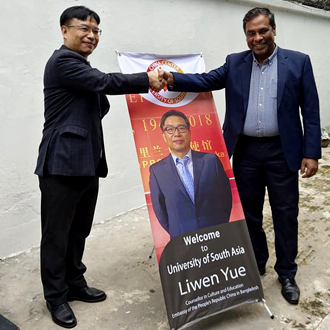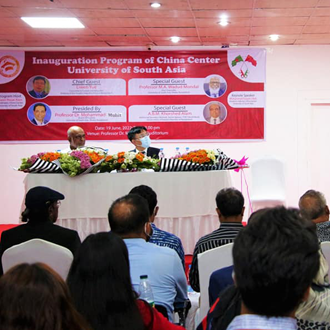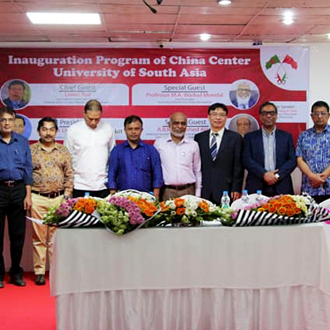 Introduction: China-Bangladesh relationship- At a Glance
Bangladesh–China relations are the bilateral relations between Bangladesh and China. Bangladesh and China are in a "strategic partnership of cooperation". China-Bangladesh relations are very old. China's diplomatic relations with Bangladesh were established in 1976, long after the country became independent. In 1950 and 1960, the then Prime Minister of China, Zhou Enlai, visited East Pakistan twice. In 1957, Abdul Hamid Khan Bhasani visited China. Later, Awami League President Hossain Shaheed Suhrawardy visited China in 1957 as Prime Minister of Pakistan. In 1976, President Ziaur Rahman established close ties with China. Later, President Ershad's visit to China in 1987 led to the development of China-Bangladesh relations. When Begum Khaleda Zia was the Prime Minister, the Chinese Prime Minister, Jiabao, visited Bangladesh. Both countries declared 2005 the "Bangladesh-China Friendship Year." Through complex participation, the two nations are moving financially, socially, and culturally through multi-faceted collaboration.
On October 14, 2016, Chinese President Xi Jinping arrived in Bangladesh on a historic visit. During that visit, China announced huge investments in various sectors of Bangladesh. The implementation of those investment projects is now in full swing. Among the ongoing projects are the Padma Multipurpose Bridge Project, Karnafuli Tunnel, Dhaka-Chittagong Highway Four Lane Upgradation, Payra Port Development, Chittagong-Cox's Bazar Railway Project, Power Grid Network Strengthening Project, Dhaka-Ashulia Elevated Expressway, Dhaka-Sylhet Four Lane Highway, etc. Cooperation is not limited to the government level but is also at the private level. Cultural exchanges between the people of both countries underwent significant developments in 2019, as over 37,000 Bangladeshi tourists traveled to China 2019 and more than 5,000 Bangladeshi students are studying in China. It is undeniable that the unprecedented development of Bangladesh's agriculture and garments sector is also due to the support of Chinese technology.
In addition, China has established itself as Bangladesh's most trusted ally in the defense sector as well. China's valuable involvement in water resource development and management also has enormous potential for Bangladesh. Recently, there have been reports of China's cooperation in the overall development of the Teesta basin, which, if implemented, could radically change certain sectors, including agriculture and industry, in a large area of North Bengal.
Apart from infrastructural development, China is also doing commendable work in cultural exchanges with Bangladesh. The Confucius Institute has been set up in various institutions of higher learning in the country. To facilitate Chinese language education for Bangladeshis, Chinese language courses have been introduced in the University of Dhaka and North South University. Every year, a large number of Bangladeshi students go to study at different universities in China with scholarships. Cultural groups are coming and going every year as part of cultural interactions. However, these activities should be allowed to spread outside Dhaka city. Organizing carnivals, fairs, and exhibitions at the district level can be fruitful in this regard.
The Chinese president has outlined the vision of the Chinese dream, which is to achieve the great renewal of the Chinese nation. The steady process of attaining the Chinese dream will not only benefit China, but also the world at large. As President Xi Jinping pointed out, the Chinese dream of national renewal is about the pursuit of happiness by every Chinese citizen, and it has much in common with the dreams of the people of Bangladesh, as we are on the way to achieving the goal of becoming a middle-income country by 2021 and a developed country by 2041. We are hopeful that Bangladesh and China, with joint efforts, will be able to develop and maintain practices and policies that will make these dreams come true.
Bangladesh-China diplomatic relations are 45 years old. The current relationship is at an all-time high. China has granted duty-free (DF) access to 97 percent of Bangladeshi products as part of a strengthened bilateral trade and investment relationship that will take effect on July 1, 2020.According to the notice of the Tariff Commission of the State Council of China on June 16, 2020, zero-tariff has been applied to 8,256 products originating from Bangladesh among the total 8,549 products recognized in the Chinese tariff line.
The government of Bangladesh has undertaken various development projects on a priority basis. If China's ongoing projects and potential projects in the future become visible in Bangladesh, China and Bangladesh will reach a unique level of relations. If these 17 development projects are implemented, the dynamism of the country's economy will increase manifold and will provide a big boost to growth.
China's investment and various cooperation in Bangladesh will further deepen China's relationship with the people of this country, which will have a special impact on our social and economic spheres. The start of production will create huge employment opportunities in Bangladesh with the establishment of industries, especially in the special industrial zones created by China. Millions of workers, employees, and officials will create new fields to earn a lot of foreign exchange.
The students studying here get first-hand experience of China's fast-rising economy, and thus the students studying here get first-hand experience. Every year, thousands of international students come here not only to study but to experience first-hand knowledge of Chinese top academics. China is frequently called the "door of global opportunity" since it is the world's largest exporting country. As a result, you will have a significant advantage in both the Chinese domestic and global job markets.
Job Market in Bangladesh: Current scenario
The job market in Bangladesh has been shrinking day by day due to the high unemployment of undergraduates and graduates. 66% of total undergraduates and graduates in Bangladesh are still unemployed. More than 5.4% of people are unemployed out of the total population. They have no tasks. The main problem with this unemployment is a lack of skills and opportunities. Every year, 2 million people are added to the labor force of the market, but there is no creation of employment in that proportion.
Hundreds of Chinese multinational companies are ranked among the global 2000 companies. Besides that, China is the production house of several of the world's top multinational companies. That means, after completing their studies, international students find more opportunities to start their careers with giant corporations.
China is known as the world's most business-friendly country. First of all, reaching global customers or clients is relatively easier in China. Secondly, the raw materials for almost all known products are highly available, including low manufacturing and labor costs. More importantly, the Chinese government offers flexible business rules and bank loans to immigrants, including international graduates from China. As a graduate from China, you will therefore find an easy and accessible way to start your career as an entrepreneur.
The University of South Asia: Background History
A renowned academician, political leader, and philanthropist, Professor M. A. Matin established this university in 2003. He was elected President of the Ophthalmological Society of Bangladesh for 18 years between 1975 and 1995. As the President of the Ophthalmological Society of Bangladesh, he was instrumental in establishing the National Institute of Ophthalmology in Dhaka for the postgraduate education and training of young ophthalmologists and OSB Eye Hospital and OSB Under-5 Clinic for free treatment of the poor patients of Bangladesh.
In various parts of rural Bangladesh, he has established 20 low-cost eye hospitals to make the appropriate ophthalmic services accessible and affordable to the poor people of Bangladesh. He also established a private medical college (North Bengal Medical College) in Sirajganj District in the year 2000.
However, the founding university of South Asia in 2003 has turned out to be the one institution founded by him that has had the most far-reaching impact on Bangladesh society. It is the University of South Asia that carries its legacy best in its dedication and commitment to providing quality education for Bangladeshi youth at an affordable cost.
He served as President of the Bangladesh College of Physicians and Surgeons for two consecutive terms (1981-1985), as well as the Founder Secretary-General of the Bangladesh National Society for the Blind, Vice-Chairman of the Bangladesh Medical Research Council, Chairman of the International Centre for Diarrhoeal Diseases Research, and Chairman of the Public Administration Training Centre.He was also one of the Vice-Chairmen of the Asia-Pacific Academy of Ophthalmology (APAO). He was also elected as Vice-President of the World Health Assembly in the year 1988, held in Geneva, Switzerland.
He joined the Ministry of Health and Family Welfare as a Deputy Advisor to the President of Bangladesh in 1978. He then became the Minister of Health for the Government of Bangladesh. He remained an important member of the Cabinet till August 1989, when he resigned from the post of the Deputy Prime Minister of the Government of Bangladesh. He has been elected four times as a member of the Bangladesh Parliament (1979, 1986, 1988, and 2001). During the ten years of his tenure as Minister and Deputy Prime Minister, in addition to being the Health Minister, he was also the Education Minister, Home Minister, Commerce Minister, Works Minister, and Communication Minister of the Government of the People's Republic of Bangladesh.Till his death on 12 June 2012, he was the Vice-Chancellor of the university. Now Professor Dr. Mohammad Muhit; the eldest son of Prof. Dr. M.A. Matin is taking responsibility as the Chairman of, the Board of Trustees of the university.
The University of South Asia: Vision and Mission
The University of South Asia was established in 2003 with the vision to improve human resources by educating them to state-of-the-art standards through teaching according to industry requirements and to achieve undisputed leadership in the education field. The mission of this university is to assist cognitive and effective student learning to develop knowledge, skills, and communication abilities together with a commitment to lifelong learning for the enhancement of students' opportunities for career success, improve the productivity of their organizations, and provide leadership and service to their communities. The University of South Asia expands the scope of local human resources by improving them to world standards through teaching and exploring the employment market to meet the expanding demand for skilled professionals. The university offers 10 undergraduate programs, 10 graduate programs, and 1 diploma program.
The University of South Asia: China Center - vision of change for Youths
The University of South Asia will be playing a vital role in overcoming the unemployment problems of undergraduates and graduates by taking various initiatives. The China Center is the key to creating jobs for undergraduates and graduates in Bangladesh.
Our aims are:
To promote the Chinese Language.
To introduce China History and Culture course
To establish Confucius Institute
To arrange collaboration with the Universities and vocational institutes in China through Memorandum of Understanding
To create employment for our students in multinational companies as language interpreters
To organize Book Fair, Movie Show, Chinese Language competitions, etc.
To organize seminars and workshops on various international issues.
To organize job/entrepreneurial related seminar and workshop with Chinese business leader
To arrange students for higher study in China
To organize public talks on various Bilateral issues
To arrange Cultural events and activities on China
The China Center of the University of South Asia will introduce Chinese Language Courses, Chinese Cultural Courses, Mandarin Corner, cultural events and activities, educational exchange and MoU with universities, and skill collaboration with Chinese Vocational and Technical Institutions. Moreover, the university will offer a four-year bachelor's degree in "BA in Chinese Studies." Detailed activities are given in the following:
Chinese Language Courses
To promote the Chinese language, the university is willing to offer the following courses and open a Confucius Institute for HSK (Chinese Proficiency Test).
1. Conventional Mandarin language: This series is designed for those who wish to develop their Mandarin-language spoken communication skills but have limited time.
2. Comprehensive Mandarin: This series caters to students of all abilities who wish to develop all four skills, i.e., reading, writing, speaking, and listening.
3. Advanced Mandarin: These courses are geared towards learners who have completed our Comprehensive Mandarin course or have had intensive Mandarin learning in China or similar.
HSK preparation courses
Levels 1, 2, and 3 will be covered in the Comprehensive Mandarin course. Students will be able to pass up to HSK 3.
Levels 4, 5, and 6 correspond to our intermediate and advanced level courses. Students will be able to pass HSK 6.
The Confucius Institute for HSK (Chinese Proficiency Test):
With the help of the Chinese Embassy and H.E. Li Jiming, we want to create a Confucius Institute at the University of South Asia.
Types of Tuition
We offer two types of tuition:
One-to-one tuition: Our one-to-one tuition caters to those who require more flexibility with their learning. Whether you have specific learning goals, require a flexible timetable, or just want to be able to work at your own pace, we can help arrange a private language tutor for you.
General language tuition: For students who want to learn Mandarin as a hobby and are working towards an exam or thinking about traveling to China. Students can also work in multinational companies.
Business language tuition: For students who want to travel to China or work in China in a business capacity:Specialized tuition also focuses on Chinese business culture and etiquette.
Chinese Cultural Courses
1. Chinese calligraphy: This course will help students learn to use Chinese brushes and ink, master the basic strokes that underpin Chinese writing, and understand the structure of Chinese characters. Participants will be introduced to regular scripts and practice writing calligraphy in this style. No previous knowledge of Chinese is required.
2. Chinese brush painting: This course will focus on introducing students to the fundamentals of Chinese brush painting. Participants will also learn about the aspects of Chinese culture and the history and philosophy behind them.
3. Tai Chi: Often described as meditation in motion, the ancient art of Tai Chi has been practiced for many centuries as a method of improving health and wellbeing.
The gentle movements are designed to restore balance to the nervous, digestive, and immune systems. Tai Chi also lowers blood pressure, and some believe that it can increase longevity. It is gentle on the joints and not strenuous, so it won't make you perspire or leave you out of breath, but will stimulate the mind, calm the nerves and help to keep you fit.
This course, run by a Tai Chi master, will follow the traditional Chen style of Tai Chi which combines the theory of Yin and Yang, Taoist doctrine, and classical martial arts routines.
Mandarin Corner
We offer our students and the general public the opportunity to practice their Chinese and develop an appreciation of Chinese culture at our regular Mandarin Corner meetings.
These are informal conversation sessions at Beginner (HSK 1-3) and Advanced (HSK 4-6) levels that are designed to allow students to get together with classmates, meet new friends, and discuss the Chinese language and culture in a relaxed, friendly environment.
Cultural events and activities
Through our public events program, we bring ancient and modern Chinese elements to our audiences.
The China Center of the University of South Asia is a Chinese cultural hub in the country. Most of our events are free (sponsored by companies) and everyone is welcome.
Festival Celebrations
This is a vital part of our calendar and a great way to bring people together.
The Chinese New Year:
The China Center will organize Dhaka's Chinese New Year Festival.
The Center brings traditional Chinese culture to the people of Bangladesh through language tasters, Chinese paper cutting, Chinese music, and Chinese tea ceremonies.
Our team of skilled teachers will help to spread the New Year cheer in Dhaka.
The Dragon Boat Festival:
The China Center will celebrate the Dragon Boat Festival each May.
Mid-Autumn Festival:
The Mid-Autumn Festival,also known as the Moon Festival or Mooncake Festival, is a traditional festival celebrated in mainland China, Taiwan, Hong Kong, Macau, and Vietnam, as well as by overseas Chinese and Vietnamese communities. Similar holidays are celebrated in Japan (Tsukimi), Korea (Chuseok), and throughout Southeast Asia.
Ancient Chinese emperors worshiped the moon in autumn to thank it for the harvest. Ordinary people took the Mid-Autumn Festival to be a celebration of their hard work and harvests. Nowadays, people mainly celebrate the Mid-Autumn Festival is a time for family reunions.
Public talks on China:
Our China Center talks are free, informal, informative lectures aimed at a non-academic audience. We invite leading thinkers and practitioners with an interest in China to speak for an hour on the topic of their choice.
Chinese Cinema:
The China Center will organize Chinese Film Festivals covering the areas of action, comedy, drama, fantasy, horror, mystery, romance, and thrillers.
Chinese Literature:
China Center will organize Chinese poets and authors, the China Center will organize Chinese Literature Festivals.
Chinese Music:
The China Center will organize Chinese Music Festivals by invitation of Chinese singers in the fields of Patriotic and National music, traditional and folk music, rock, pop, etc.
Bachelor of Arts in Chinese Studies (Four-Year Honors Program)
The China Center of the University of South Asia is preparing a curriculum for the Bachelor of Arts in Chinese Studies—a four-year honors degree for students of Bangladesh, India, Nepal, Bhutan, Myanmar, and many more. We will offer this program after getting approval from University Grants Commission (UGC), Bangladesh.
Education Exchange and MoU with Universities
China has over 2000 universities and vocational institutes, and over 500 of them accept international students. For the beginning session, we are planning to do an MoU with Yunnan Technology and Business University (Private), and Ningbo University (Public) as our beginning steps.
Skills Collaboration with Chinese Vocational and Technical Institutions
Our goal is to introduce students to new technology and help them develop their technical skills. China has already introduced next-generation technology to the world, and we are willing to adopt the enhancements. Chinese trainers will be invited for workshops, and students will be sent for overseas training in China.
Thanking You,
Mohammad EnayetUllah
Academic Advisor
China Center
University of South Asia
Cell: +8801680832112
E-mail: chinacenter@southasiauni.ac.bd